Microwave Installation
Microwave Mounting and Handyman Services in Clark County
Put the Finishing Touch on Your Kitchen!
At 360 Home Services, we partner with Clark County homeowners to provide a complete range of handyman and home improvement services that put the finishing touches on a home. Whether you're just completing a brand new build, looking to make a new home feel like your own, or you simply decided it's time to spruce up an older house, we can help with any handyman services required!
Microwaves certainly make life easier in the kitchen, and are used daily in most homes. Since the microwave is so essential to your kitchen, it makes sense that it should be integrated into your interior design in an elegant way that flows with your kitchen's layout. Our team can expertly install an over-the-range microwave in your kitchen, safely and securely. Contact us today for a free estimate for mounting a microwave in Las Vegas and throughout the Clark County area.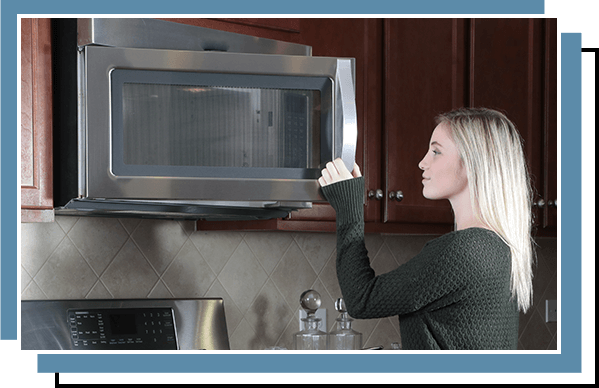 Why Choose 360 Home Services for Microwave Installation?
360 Home Services will complete the job safely and securely

Our handyman team is licensed, bonded, and insured

We have more than 10 years of experience in handyman and remodeling services

We always strive to provide high-quality craftsmanship, careful attention to detail, and the friendly customer service you'd expect of a family-owned business

We provide a full range of handyman services to Clark County homeowners, working with every room of the home

We offer free estimates — contact us today to get started!
Kitchen Design from Top to Bottom
The 360 Home Services team can provide handyman and remodeling services in all rooms throughout your house, and one of our specialties is the kitchen. Your kitchen is the heart of the home for cooking and entertaining, and as such, it should work perfectly for your needs. From installing a new microwave above your stove to completely changing the layout or adding a new paint job, our team is up to the task.
Why Mount Your Microwave?
Microwave installation over your stove or elsewhere in the kitchen provides both visual and functional benefits. If your kitchen space is limited, mounting your microwave can save valuable counter space for meal preparation. Whether your kitchen is large or small, mounting your microwave also provides the key benefit of providing a cleaner, more modern look to your kitchen. Mounting your microwave improves both the flow and look of your kitchen, and is a desirable option for giving your kitchen a high-end appearance.
Regardless of your reasoning for mounting your microwave, our team takes the hard work and stress out of your hands by ensuring the installation is completed properly and your microwave is secure in its place.
Contact 360 Home Services for Microwave Installation
When you're ready for handyman or remodeling services to put the finishing touches on your home and make it your own, contact the team at 360 Home Services. Our licensed, bonded, and insured Las Vegas handyman team will complete the job safely and reliably. Get in touch with us today to receive a free estimate for microwave installation in Henderson, Las Vegas, East Las Vegas, or Boulder City.