Gutter Installation, Repair, and Much More!
Having properly functioning gutters is imperative to protecting your home or business from water damage. If you need new gutters installed or old gutters repaired or replaced, our team is here to help! We provide prompt and professional gutter services in Clark County when you need it most.
360 Home Services has been a trusted name providing handyman services in Clark County for more than 10 years. We provide a wide range of handyman and remodeling services in Henderson, Las Vegas, East Las Vegas, and Boulder City. Contact us today to learn more and to request gutter services.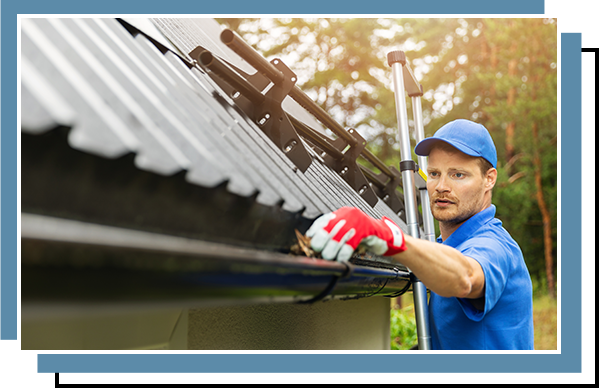 Why Choose 360 Home Services for Handyman Services?
We are licensed, bonded, and highly trained
We offer excellent craftsmanship, attention to detail, and the personal service of a family-owned business
We bring more than 10 years of handyman and renovation experience to your project
We provide both residential and commercial service
We provide handyman services ranging from gutter repair to painting services, and nearly anything in between
We offer free estimates — call today to get started!
Protect Your Home With Properly Functioning Gutters
It can be easy to neglect the condition of your property's gutters. After all, gutter cleaning and maintenance is never the most fun task. However, maintaining the condition of your gutters is extremely important to keeping your property in the best shape possible and preventing water damage.
Without well-functioning gutters, your home can be susceptible to costly damages to your foundation, landscaping, and other features. Regular cleaning, maintenance, repair, and other gutter services are imperative to keep your system functioning properly and to prevent unnecessary damages. Don't wait until your backed up or damaged gutters cause costly damages — call us today for quick and easy gutter services and the resulting peace of mind.
Our Handyman Services
Gutter replacement is not the only service we specialize in at 360 Home Services. Just as our name implies, we're a top choice in Henderson and the surrounding communities for any and all handyman and renovation services. We provide services to both residential and commercial clients to help them update their properties to their exact specifications.
From the installation of appliances and other household features, to interior and exterior painting services, weatherproofing services, general home repairs, or full-scale renovation projects, our team will help make your vision a reality with our wide range of handyman services. Read our testimonials to see how we've helped past customers achieve their remodeling visions!
Contact 360 Home Services Today for Gutter Service
Don't allow your gutters to become a weak spot of your home — contact 360 Home Services today for gutter services and avoid easily-preventable damages. Our team is ready to provide prompt and effective gutter repair in Henderson, Las Vegas, and throughout Clark County. Contact us today to receive a free estimate, or to learn how we can help with other handyman and renovation services.
Contact Us
Call (702) 343-6228 or fill out the form below.