We Make Ceiling Fan Installation a Breeze
Any time you have to complete any sort of electrical work in your home, it pays to choose a professional who will complete the job safely. Choose the team at 360 Home Service for ceiling fan installation and other handyman services in Clark County, and we'll ensure safe installation and high-quality craftsmanship. Get in touch with us today for a free estimate on ceiling fan installation in Las Vegas, East Las Vegas, Henderson, and Boulder City.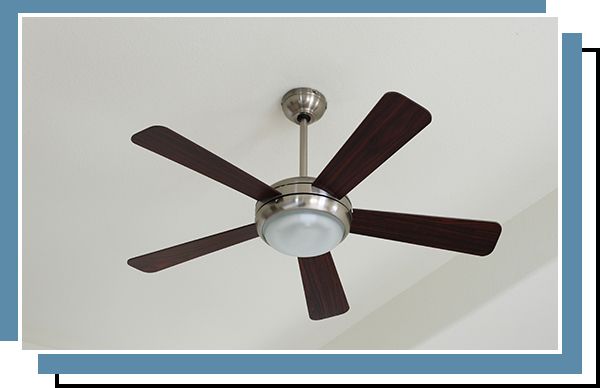 Why Choose 360 Home Services for Lighting Installation?
Our handyman team is licensed, bonded, and insured

We offer the quality craftsmanship, attention to detail, and customer service that comes from a family-owned business

We bring more than 10 years of industry experience to your project

We provide trusted ceiling fan installation and complete handyman services to Clark County homeowners

We offer free estimates — contact us today to get started!
Increase Your Comfort With a New Ceiling Fan
Whether you live in Las Vegas or elsewhere in Clark County, you're certainly no stranger to the heat. If your current ceiling fans are no longer up to the task, or you want to install additional fans in rooms throughout your house, the team at 360 Home Services is ready to help. A proper ceiling fan is the perfect tool for keeping cool in every room of the home, saving on air conditioning costs, and adding an attractive accent piece to a room. When it's time to install a new ceiling fan to keep the air moving and stay cool, reach out to 360 Home Services for professional ceiling fan installation.
Don't Mess Around With Subpar Installation
When you're tasked with installing a new ceiling fan, whether you're updating an old fan in your home or adding fans to a new home, it's important the job is done the right way. Not only is it important that the installation looks nice and is hung securely, it's also critical that all electrical wiring is performed safely and properly. Faulty electrical work can lead to fire hazards — to ensure a job well done and a safe environment within your home, be sure to choose a professional for ceiling fan installation.
When you choose 360 Home Services for ceiling fan installation or any of our range of handyman and renovation services, you can put any fears of faulty craftsmanship to rest. Our team of contractors is licensed, bonded, and insured in Nevada, and we put our 10+ years of experience to use in each project. From ceiling fan installation to lighting installation and many other jobs, we ensure safe and reliable service.
Contact 360 Home Services for Ceiling Fan Installation
When it's time to replace your existing fans or install new fans in your home, choose the trusted handyman team at 360 Home Services. Our licensed, bonded, and insured team will provide excellent customer service and high-quality craftsmanship. Contact us today to request a free estimate for ceiling fan installation in Henderson, Las Vegas, East Las Vegas, or Boulder City.