Putting the Finishing Touches on Your Home
Whether you just moved into a new home, completed a brand new build, or simply decided it was time to spruce up your old house, 360 Home Services is your partner for providing the handyman services that put the finishing touches on your property and keep it in tip-top shape.
A fun and elegant way to liven up a room is by wall-mounting your television, whether it's brand new or you just want to clean up the look of your existing entertainment setup. 360 Home Services can expertly mount your television and ensure no damage is done to your walls or TV. Contact our team today to receive a free estimate for TV mounting and our many other handyman services in Clark County.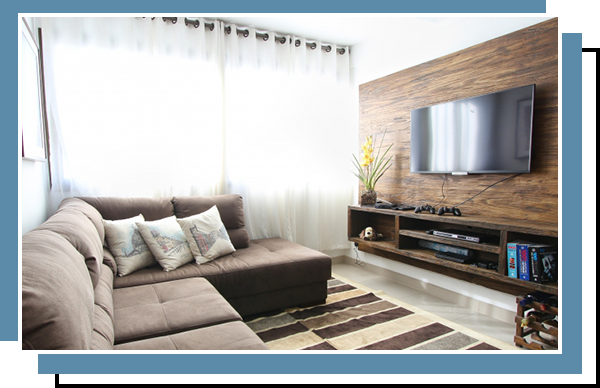 Why Choose 360 Home Services for TV Mounting?
Our handyman team is licensed, bonded, and insured

We provide the highest quality of craftsmanship, careful attention to detail, and friendly customer service as a family-owned business

Our team has more than 10 years of experience completing remodeling and handyman services

We provide trusted TV mounting and a wide range of handyman services to Clark County homeowners

We offer free estimates — contact us today to get started!
Say Goodbye to Unsightly Wires
As televisions have gotten larger and larger over the years, it's become a more difficult task to ensure your impressive screen fits into the room properly without standing out like a sore thumb in your interior design. Wall mounting your television is a fantastic option for many homeowners, providing a way to reduce clutter from your television's wires and reduce the amount of space you need to dedicate to an entertainment stand.
Depending on your property and your preferences, you have a great deal of wall mounting options — mounting flat to the wall, on a swivel, on a tilt, and more. Whichever option you choose, our team can ensure the installation is done properly to either make your television stand out as a centerpiece, or to tuck it away discreetly.
Don't Risk Damaging Your Property
As televisions have gotten larger, it also means they're harder to handle during installation and more difficult to properly and securely mount to your wall. Our team has the experience to guarantee a safe, secure installation without damaging your television, your wall, or any other parts of your property. We can help provide that theater-like experience in your home with an expertly mounted television!
Contact 360 Home Services for Television Mounting
360 Home Services is your top choice in Clark County for expert handyman services and home improvement projects that put the finishing touches on your home. When you're ready to upgrade your home entertainment setup by mounting your television to the wall, our licensed, bonded, and insured team is up to the task! Contact us today to receive a free estimate for TV installation in Henderson, Las Vegas, East Las Vegas, or Boulder City.